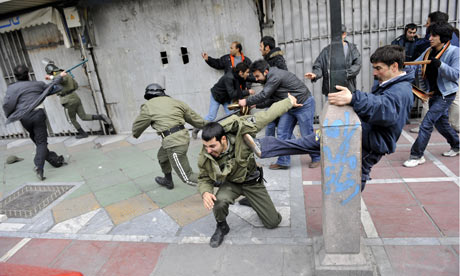 As massive anti-government protests have reignited in Iran, the Obama administration has strongly condemned the brutal actions of this repressive regime.  This past summer amidst widespread protests over election fraud, the Obama regime was more measured in its response.  There was still hope then that Iran would be open to American overtures for engagement that might limit its nuclear program.  These overtures have since been rebuffed and it looks like the administration is now turning from the carrot to the stick.  The next step is to get some new faces on board.
The administration was right to make the effort to engage the regime.  During the campaign this had always been candidate Obama's promised policy.  However, as Tehran continues to stall, reject American overtures, and brutalize its own people, the President correctly concluded that it may be time to change course.
Yesterday the president said,
The United States joins with the international community in strongly condemning the violent and unjust suppression of innocent Iranian citizens…. For months, the Iranian people have sought nothing more than to exercise their universal rights.  Each time they have done so, they have been met with the iron fist of brutality, even on solemn occasions and holy days.
After Western condemnation of the violence that has taken place in Iran, Tehran answered with the predictable response.  Iranian government spokesman Ramin Mehmanparast said, "Some Western countries are supporting this sort of activities…. This is intervention in our internal affairs. We strongly condemn it."
The Obama administration must do more than just explain that what is happening in Iran is not about the United States.   It's time to get other Muslim countries on board to speak out against the brutal repression taking place in Iran.  For too long the narrative told by the Iranian regime is one which pits the Iranian regime against the "aggressors" – the United States and Israel.  Of course, few in the West buy this response.  However, there's nothing like a common enemy to motivate the masses in Iran, particularly if there is limited access to media sources to counteract the propaganda.
This is why it's critically important to internationalize and "Islamicize" the condemnation of these acts of violent repression.  It's quite predictable that countries such as the United States, England, France, Germany, Italy, Canada, and the EU quickly responded.  Even Russia released a weak statement calling on the Iranian regime to exercise restraint.  What were missing were Muslim-majority countries.  Where were U.S. allies such as Indonesia and Turkey?  What about Pakistan?  No response from the Middle East countries of Jordan or Kuwait.  Although all these countries have had their own difficulties with democratic development and respect of human rights, strong statements by them could make a real difference in the Iranian narrative.  (more…)