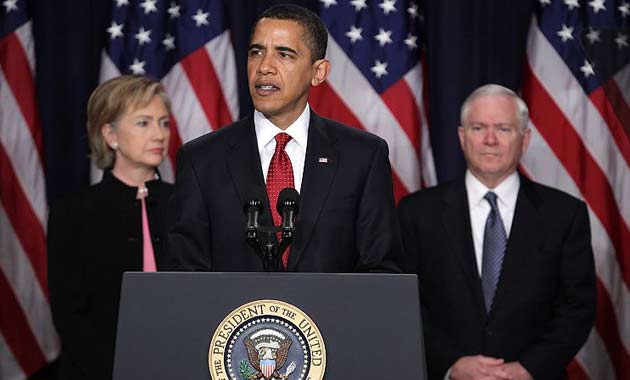 Remember way back when, in March 2009, when everyone was so pleased and excited that the Obama administration had announced its "comprehensive new strategy for Afghanistan and Pakistan." As Mary Hopkin once sang:
Those were the days my friend
We thought they'd never end
We'd sing and dance forever and a day
We'd live the life we choose
We'd fight and never lose
For we were young and sure to have our way.
It has been less than two months but the "strategy" is not looking so hot. Right now, policymakers charged with implementing it are probably reaching for an entire bottle of Jack Daniels, as opposed to the glass or two of wine in Hopkin's song, as they contemplate the AfPak area of operations.
Consider a few news items from just the past week.
Over half a million people have fled the fighting in Pakistan's Valley, bringing the total number of displaced since August to one million as 125,000 Pakistan soldiers fight a reported 4,000 Taliban militants there. Even assuming the Pakistani military is committed to the fight, something it has promised before but not followed through on, it is unclear whether it will succeed. Pakistanis in the area say the Taliban had so far held on to every neighborhood they had seized in the previous days and months. Witnesses said Friday that the insurgents remained in control of Mingora, the district capital, and many parts of the districts of Buner and Lower Dir.
And, if the Pakistani military does not decisively destroy the Taliban there that will put them far too close for comfort to various Pakistani nuclear facilities. As Leonard Spector Deputy Director of the Monterey Institute's James Martin Center for Nonproliferation wrote:
Taliban fighters will surely be emboldened to probe into government-controlled areas closer to the capital and to several key nuclear sites. Given their enormous political and military salience, the nuclear sites would be particularly appealing targets. Whether government forces would fare any better in protecting these locations than in the Swat Valley would be hard to predict. If a site were overrun, local physical protection measures would mean little.
U.S. military and intelligence officials worry that Taliban forces pushed out of Afghanistan by reinforced U.S. troops this summer will flow unimpeded into Pakistan, as they did during U.S. operations in Afghanistan in 2001.
Gen. David Petraeus, head of the U.S. Central Command, said in an interview that Pakistan has become the nerve center of al Qaeda's global operations, allowing the terror group to re-establish its organizational structure and build stronger ties to al Qaeda offshoots in Iraq, Yemen, Somalia, North Africa and parts of Europe.
And mark the word of Bruce Reidel, the retired CIA expert on South Asia, who chaired the special interagency committee that developed President Obama's policy strategy for Afghanistan and Pakistan. He said in an interview with the Council on Foreign Relations "the situation remains dire" in the region, and particularly in Pakistan. He says "there is a real possibility of a jihadist state emerging in Pakistan sometime in the future. And that has to be one of the worst nightmares American foreign policy could have to deal with."
Meanwhile, in Afghanistan, the situation, while not hopeless, is certainly difficult. As Bing West noted in the Wall Street Journal:
As long as Pakistan is a sanctuary, U.S. forces here will be on the strategic defensive, no matter how skillful their military tactics. We can't stay forever. The basic question is: How to consolidate the battlefield gains? That depends upon how the mission is defined. President Barack Obama has avoided promising to build a vibrant democratic nation. "The achievable goal," he said recently, "is to make sure it [Afghanistan] is not a safe haven for terrorists." Such a minimalist policy can be achieved in one of two ways.

The first is to apply the classic counterinsurgency model: After the military push the enemy from a populated area, the police take over, while government appointees provide honest governance and basic services. This approach pursues the expensive nation-building that Mr. Obama has not endorsed. It requires thousands of additional police trainers and hundreds of civilian advisers in the districts. These advisers also serve as watchdogs against corruption, acting as a shadow government to restrain officials prone to skimming and payoffs. It's a sound approach that is slow and expensive.

The second option is to expand the role of the Afghan army to act as the facilitators and watchdogs of governance. Today, American commanders like Capt. Howell routinely participate in shuras or councils. They can gradually hand off such governance-related tasks to Afghan officers.
Either way, key to eventual Afghan success will be the support and cooperation of its people. And they are less likely to give it when they are being killed by U.S. weapons, even if inadvertently. United States officials acknowledged last Thursday for the first time that at least some of what might be 100 civilian deaths in western Afghanistan had been caused by American bombs.
On the bright side, following the timeless wisdom, that one should always follow the money trail if you really want to know what is happening, Afghanistan war funding surpasses the outlay for Iraq for the first time in next year's proposed Pentagon budget. The $130 billion in war funds that are part of the fiscal 2010 budget request includes $65 billion for Afghanistan operations and $61 billion for Iraq. For 2009, $87 billion was requested for Iraq and $47 billion for Afghanistan.
However, even silver linings have their clouds. U.S. Defense Secretary Robert Gates and military officials said last Thursday that U.S. troops are being rushed to Afghanistan without the equipment they need to fight an emboldened Taliban.