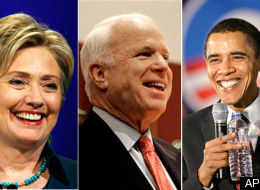 While many folks (including myself) last week were focused on the primary results on March 4 which resulted in John McCain securing the Republican nomination and Barack Obama and Hillary Clinton destined to continue campaigning for the foreseeable future, a March 5 event on Capitol Hill was overlooked by many.  This event spearheaded by the the US Center for Global Engagement's Impact 08 project focused on a call for an increase in resources and influence provided to non military tools of US foreign policy engagement.  This initiative argues that for too long the US has overemphasized its military tools and underemphasized diplomacy and development.  Of course, for many years activists from groups such as the American Friends Service Committee (a Quaker group), Pax Christi, the Center for Defense Information, and many others have advocated for such a reprioritization.  One would expect that they were the types that had signed on to such a call.  In fact, just the opposite was true.  The call to action was signed by over 50 three and four star generals and admirals.  The list can be found here.  This group is co-chaired by former Marine Corps General Anthony Zinni and former Navy Admiral Leighton Smith. 
The numbers are actually quite staggering.  We spend about 22 percent of our national budget on defense while just about one percent on diplomacy and development.  This imbalance has gotten so far out of whack that even our military leaders are stepping up to the plate and registering their disapproval.  Of course, the irony is, as many international development advocates will tell you, the American public continues to falsely believe that in fact we spend about 20% of our national budget on foreign aid.  The public reports that they would be comfortable with around 10%.  In fact, our foreign aid spending is less than 1% of the overall federal budget.   
So, what have the three remaining presidential candidates said about a reemphasis of diplomacy and development in our foreign policy?  I decided to examine the degree to which these two important arms of foreign policy have been emphasized in each candidate's recent Foreign Affairs magazine essay on their approaches to foreign policy.  I included below the excerpts from each candidates's essay that believe most closely aligns itself with the generals' proposal. Granted, each candidate has many speeches and has written about these ideas.  I used the Foreign Affairs essays since they presented a way to compare each candidate based on the same measure. 
There is a time for force and a time for diplomacy; when properly deployed, the two can reinforce each other. U.S. foreign policy must be guided by a preference for multilateralism, with unilateralism as an option when absolutely necessary to protect our security or avert an avoidable tragedy.

Use our military not as the solution to every problem but as one element in a comprehensive strategy. As president, I will never hesitate to use force to protect Americans or to defend our territory and our vital interests. We cannot negotiate with individual terrorists; they must be hunted down and captured or killed. Nor can diplomacy alone stop the perpetrators of genocide and crimes against humanity in places such as Darfur. But soldiers are not the answer to every problem. Using force in lieu of diplomacy compels our young men and women in uniform to carry out missions that they may not be trained or prepared for. And it ignores the value of simply carrying a big stick, rather than using it.
As we increase our military capacity, we must also enhance our civilian capacity. As president, I will energize and expand our postconflict reconstruction capabilities so that any military campaign would be complemented by a civilian "surge" that would build the political and economic foundations of peace. To better coordinate our disparate military and civilian operations, I will ask Congress for a civilian follow-on to the 1986 Goldwater-Nichols Act, which fostered a culture of joint operations within the military services. The new act would create a framework for civil servants and military forces to train and work together in order to facilitate cooperation in postconflict reconstruction.

We must also revitalize our public diplomacy. In 1998, the Clinton administration and Congress mistakenly agreed to abolish the U.S. Information Agency and move its public diplomacy functions to the State Department. This amounted to unilateral disarmament in the war of ideas. I will work with Congress to create a new independent agency with the sole purpose of getting America's message to the world — a critical element in combating Islamic extremism and restoring the positive image of our country abroad.
Citizens everywhere should be able to choose their leaders in climates free of fear. America must commit to strengthening the pillars of a just society. We can help build accountable institutions that deliver services and opportunity: strong legislatures, independent judiciaries, honest police forces, free presses, vibrant civil societies. In countries wracked by poverty and conflict, citizens long to enjoy freedom from want. And since extremely poor societies and weak states provide optimal breeding grounds for disease, terrorism, and conflict, the United States has a direct national security interest in dramatically reducing global poverty and joining with our allies in sharing more of our riches to help those most in need. We need to invest in building capable, democratic states that can establish healthy and educated communities, develop markets, and generate wealth. Such states would also have greater institutional capacities to fight terrorism, halt the spread of deadly weapons, and build health-care infrastructures to prevent, detect, and treat deadly diseases such as HIV/AIDS, malaria, and avian flu.

As president, I will double our annual investment in meeting these challenges to $50 billion by 2012 and ensure that those new resources are directed toward worthwhile goals. For the last 20 years, U.S. foreign assistance funding has done little more than keep pace with inflation. It is in our national security interest to do better. But if America is going to help others build more just and secure societies, our trade deals, debt relief, and foreign aid must not come as blank checks. I will couple our support with an insistent call for reform, to combat the corruption that rots societies and governments from within. I will do so not in the spirit of a patron but in the spirit of a partner — a partner mindful of his own imperfections.
Judging from their essays in Foreign Affairs It seems that Clinton and Obama are relatively closely aligned on this one.  Though they differ on some of the details. For example, Obama makes a specific call for a dramatic increase in foreign assistance to $50 billion by 2012.  Clinton also specifically calls for $10 billion over 5 years to train teachers and build schools in the developing world.  McCain tends to focus more on the military but also has made an effort to also address development and diplomacy.  In one section of his essay he emphasized the need to support programs in Africa.  In the excerpt I included he emphasized our need to improve our post-conflict capabilities and our public diplomacy. 
At least on the face of it, it seems that our current crop of candidates is at least thinking about foreign policy in a more balanced manner.  The question remains, however, is how far will each of these candidates go in terms of strengthening the diplomacy and development components in relation to the defense component.  Will it be a dramatic shift, or more marginal adjustments at the edges.